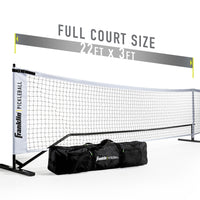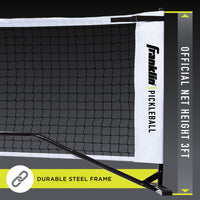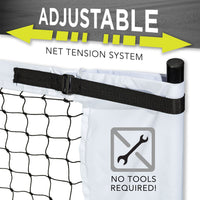 Franklin Official Pickleball Net
Overview
Franklin Sports' Pickleball Tournament Net is easy to assemble and is built to last. It has been engineered and designed to be the best pickleball net on the market. The tournament net stands on a sturdy powder coated steel frame with a quality net slung taught from one end to the other. If you can't leave your net set up, it comes with a well-built carry bag with two built in ball pockets.

EASY ASSEMBLY: The frame has been engineered to assemble without the use of tools. The tops of our net posts have secured dome caps allowing the net to slide on without stressing out the fabric
TRAVEL READY: We have included a quality weather resistant carry bag with two built-in ball pouches so you can bring your net wherever you will be playing
WEATHER RESISTANT: Set up the net and play! This net is constructed of quality parts that can handle the elements
OFFICIAL SIZE: This net is built for the serious players and is ready for tournament play. Assembles to 22' x 20" x 36"
HIGH-QUALITY DESIGN: Our pickleball net features high-quality components and design. Durable build that is made to last.
HOW THE  HECK IS THE
game played?!
Pickleball is a simple paddle game played with a net and on a court, similar to tennis.
Find out how to play!