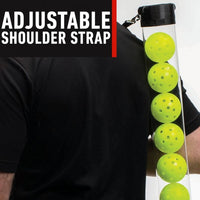 Overview
The Pickleball Retrieval Tube from Franklin Sports is a must-have accessory for any level of pickleball player. No more bending and reaching for pickleballs; the tube effortlessly retrieves, stores and transports pickleballs. The tube holds 12 regulation size pickleballs. (balls not included)


QUICK AND EASY retrieval of pickleballs from the court! Simply press one end of the tube over the ball and it will store itself in the tube! Remove the elastics from one end to release balls into play
EASY USE FENCE HOOK makes storing your pickleballs fast and convenient. Keep them right next to you courtside!
EASILY TRANSPORTABLE with the included adjustable shoulder strap
STORES, TRANSPORTS AND COLLECTS up to 12 standard size pickleballs (balls not included)
NO MORE bending over to clean the court! The tube is 37in long and provides a fast, easy way to retrieve all of those loose pickleballs!
HOW THE  HECK IS THE
game played?!
Pickleball is a simple paddle game played with a net and on a court, similar to tennis.
Find out how to play!