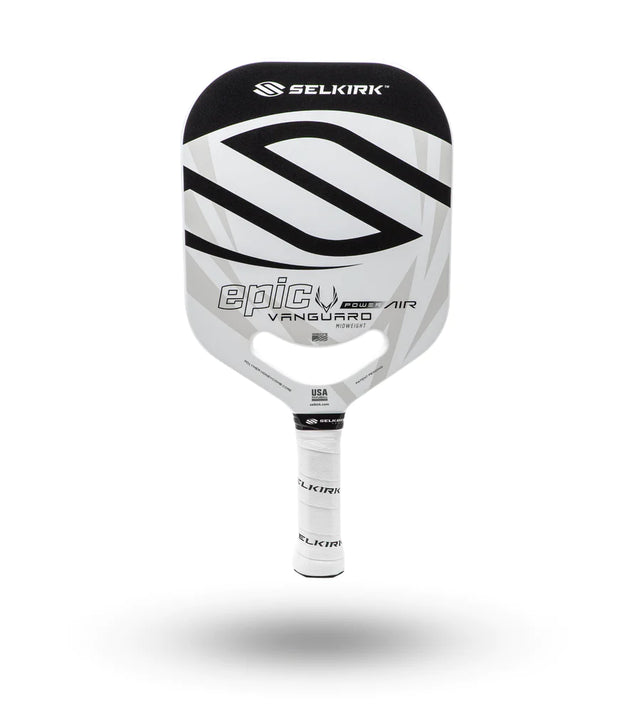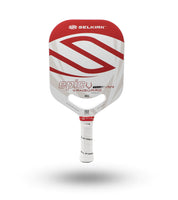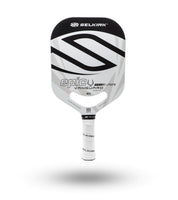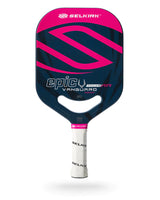 Selkirk Vanguard Power Air Epic
Overview
Power Air Overview
The preferred paddle for power players
Generates maximum spin for controlled, aggressive drives
Features a larger sweet spot than traditional power paddles
Creates difficult-to-return shots as a result of superior ball spin
Delivers relentless power, with a surprising amount of control
Unquestionably the most aerodynamic of all Selkirk paddles
The ideal paddle for singles and tennis players
Power Air Epic Specs:
Midweight Range: 7.7 – 8.1 oz.

Custom weights are not available

Grip Circumference: 4 1/4"
Grip Selkirk Geo Grip
Handle Length: 5 1/4"
Paddle Length: 15 3/4"
Paddle Width: 8"
Face: Hybrid Blend of Fiberglass and Carbon Fiber
Core material: Polymer Honeycomb
Core Thickness: 0.5''
Edge Guard: Edgeless DuraEdge
Manufacturer: Selkirk Sports
Assembled in the USA
Power Air Technology

Air Dynamic Throat for quicker swing speed:

 

Developed in Selkirk Labs with Project 002 and fine-tuned to provide maximum flex, the Air Dynamic Throat is now larger and even closer to the handle, offering optimal air flow and improved ball control.
ThroatFlex for more power and dwell time:

 

Created to provide maximum flex when you connect with the ball, our new ThoatFlex open throat design extends dwell time on the paddle and enhances power play, for unbeatable consistency.
ProSpin+ NextGen Texture for long-lasting maximum spin surface:

 

Formulated in Selkirk Labs to generate more spin than any technology on the market, our ProSpin+ NextGen Micro Texture technology features a longer-lasting spin surface and provides unparalleled consistency, ensuring you can shape and control the ball with ease, to dominate on the court.
QuadFlex 4 Layer Hybrid Face for power & control:

 

Initiated in Selkirk Labs with Project 002, the QuadFlex 4 Layer Hybrid Face features a first-of-its-kind blend of two layers of Fiberflex and two layers of Quantum+ carbon, for effortless power and control.
360° Proto Molding for power and consistent sweetspot:

 

Engineered to provide 360 degree composite coverage, using a proprietary high pressure manufacturing process, 360° Proto Molding technology generates ultimate power, while delivering a consistent feel on every play.
Aero-DuraEdge Edgeless Technology for increased durability and aerodynamics:

 

Introduced to increase edge reliability alongside the FlexFoam edge perimeter, Aero-DuraEdge Edgeless technology is composed of our specialty, impact resistant blend of composites and polymer.
FlexFoam Perimeter for power, durability and a larger sweetspot:

 

Achieved by injecting specially formulated foam into the entire perimeter of the paddle, our FlexFoam Perimeter technology increases durability, adds weight, enlarges the sweet spot, and absorbs the vibrations from every hit, for a stable, reliable feel. This technology was originally developed in Selkirk Labs for Project 002.
SuperCore Polymer Honeycomb Core for a consistent, familiar feel:

 

Created for the QuadFlex Face, the groundbreaking polypropylene honeycomb SuperCore delivers supreme power while enhancing your control of the ball.
HOW THE  HECK IS THE
game played?!
Pickleball is a simple paddle game played with a net and on a court, similar to tennis.
Find out how to play!